HANDMADE ADDS

TO YOUR HOME
Collect Vintage & Antique Linens
In olden times, the traditional bride's dowry began with her hope chest of linens.
As soon as she could manipulate needle and thread, she practiced embroidery and lace making, adding piece after piece to the chest. Friends and relatives contributed treasured antique and vintage heirloom linens.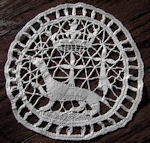 Antique Handmade Figural Lace Doily

Perhaps a talented aunt invented her own figural lace patterns; a variety of figures, cherubs, birds, kittens, etc. in cutwork, needle or filet lace became figural lace borders or inserts. Another busied her hands with dainty Irish lace; still another stitched exquisite Society Silk or Madeira Marghab style embroidery. All of these would decorate the bride's linens.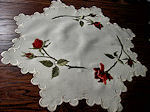 Antique Soiciety Silk Table Topper

Occasionally several women would work together to create one gorgeous, unique piece with figural and Irish lace, Madeira embroidery and whatever other techniques their nimble fingers could execute.
One by one, a lifetime supply of beautiful handmade linens accumulated.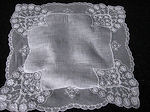 Vintage Wedding Hankie
Limerick Lace

As her needs progressed from the wedding hankie to the Christening cap, her hope chest provided a seemingly endless variety of linens. Whether she needed sturdy tablecloths and huck linen towels for her kitchen, table runners, dresser scarves and guest towels to decorate her home or linen damask tablecloths with monogrammed napkins for a sit-down dinner, she was prepared!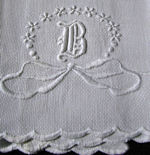 Vintage Huck Linen Towel
Embroidered Monogram
The most elaborate of these were "saved for best" and used only on very special occasions. Exquisite pieces of Normandy lace, Marghab and Society Silk embroidery have survived almost untouched for generations. Even everyday, household linens were frequently embroidered, monogrammed or lace edged.
Antique and vintage linens add a warm, heirloom feeling to your home.
What could be more personal than the lace tablecloth handmade by your own grandmother? But, aside from sentimentality, a linen doesn't have to be antique or vintage to be charming.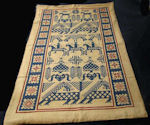 Folk Art Embroidered
Wall Hanging

Of course you can't always expect a pre-owned linen to be in pristinely, brand-new condition. It is the one-of-a-kind effect, usually achieved by handwork of some kind, that makes each piece special.
Many of our older linens come from Connecticut estates.
Each has been selected for that certain something that makes it unique. Enjoy browsing through our site. You, too, may find that certain something that will be just right for your home.

FINDING WHAT YOU WANT

Older Linens, Lace & Hankies Are Unique
Vintage and antique linens were usually handmade to suit the individual homemaker's purpose.
Many don't fit neatly into a category. Thus, there is overlapping and cross-over between categories. On Hearts-Desires each piece will be displayed only once; but possibly not in the category where you first expect to find it.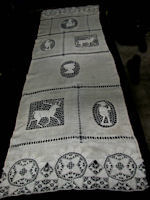 Vintage Linen &
Figural Lace
Table Runner
The white boxes to the left show the basic site contents. Most of the basic product titles link to further, more specialized, sub-categories. There are thirteen sections of hankies alone! And some of those sections contain three or more pages! White boxes at the top and bottom of each product page show links to the most closely-related categories, in case you wish to expand your search. For example: The table runners section, three pages in itself, shows links to table toppers.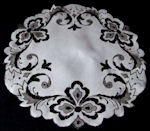 Vintage Linen & Lace Table Topper

I consider table runners and dresser scarves to be long rectangles or ovals; table toppers to be round or square. You may decide that shape is not the determining factor in choosing the linen to complement your decor.
Linens are classified by purpose rather than style. If you are looking for a specific attribute, enter your keywords, such as "folk art" or "tambour lace" into the search box below the contents.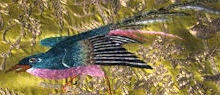 Antique Metallic
Embroidered Scarf
The search box is on this homepage only.
You may also wish to check our Needle Arts page, which displays some of the finest handmade antique and vintage linens available. Most of these aren't categorized, but may be adapted to your special purpose.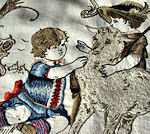 Antique Embroidered
Linen
The articles are a mixed bag. Some, such as "Collecting Vintage Hankies", are designed to introduce the beginning collector the many possibilities available. Some, such as "The Wonderful Little Buttonhole Stitch", consider a single aspect of vintage linens in minutest detail. Some, such as "Web Pages Are Copyrighted!" were written out of personal experience, and may be of interest to others who enjoy shopping for linens on the internet.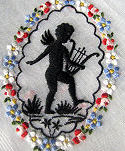 Cherub on
Vintage Linen Hanky
Note: Photos illustrating the articles show actual examples of vintage and antique linens that were available at the time the article was written.
The items may, or may not, still be available. Although our pages are updated frequently, the page might have originated some time ago.

So, again, enjoy browsing our site. Thank you for visiting. New items are added almost daily; so, "Y'all come back!"